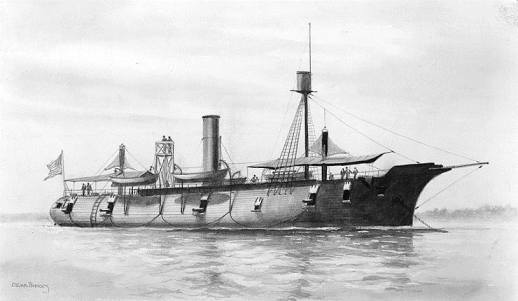 The USS Galena
USS Galena was a wooden-hulled broadside ironclad built for the United States Navy during the American Civil War. Galena was 210 feet long overall, with a beam of 36 feet, and a draft of 11 feet. She was armed with four 9in Dahlgren smoothbore guns and two 100lbr Parrott rifled guns. Her crew numbered 150 officers and enlisted men.
The ship wasinitially assigned to the North Atlantic Blockading Squadron and supported Union forces during the Peninsula Campaign in 1862. She was damaged during the Battle of Drewry's Bluff because her deck armor was too thin to prevent Confederate shots, fired from above on the bluff, from penetrating into the ship.
It was during this action that Marine Cpl. John F. Mackie led a group of Marines to take over for many dead or wounded sailors, operating their broadside guns for the remainder of the battle. Mackie was the first U.S. Marine to earn the Medal of Honor.
Widely regarded as a failure due to damage sustained at Drury's Bluff, Galena was reconstructed without most of her armor during 1863, and transferred to the West Gulf Blockading Squadron in 1864. The ship participated in the Battle of Mobile Bay and the subsequent Siege of Fort Morgan in August. She was briefly transferred to the East Gulf Blockading Squadron in September before she was sent to Philadelphia, Pennsylvania for repairs in November.
They were completed in March 1865 and Galena rejoined the North Atlantic Blockading Squadron in Hampton Roads the following month. At the end of the war, the ship was decommissioned at Portsmouth, New Hampshire in June 1865. She was transferred to Hampton Roads in 1869, condemned in 1870, and broken up for scrap in 1872.
Return to Main Page